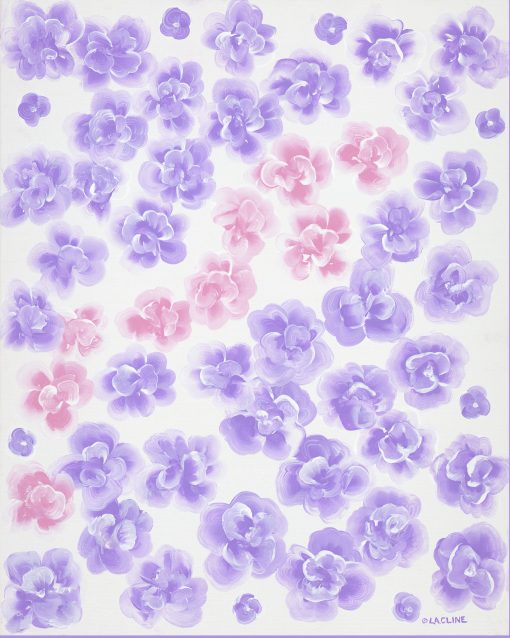 Flower Painting Lavender and Pink
The soft lavender and pink flowers in this painting have been meticulously hand-painted to allow for a smooth and effortless flow of design over the linen canvas. To achieve the desired effect, I used acrylic paint directly on the canvas without any back color. The composition started with a single point of lavender flowers and grew organically with the introduction of a second pink color in a diagonal direction. Each shape within the painting is the result of my natural creative process, and the end result is a stunning example of my original art.
This beautiful abstract flower digital fine art is framed with a white frame, which adds to the overall aesthetic appeal of the artwork. This digital rendition is created using the finest archival inks and acid free canvas with archival varnish to ensure the fine art is protected.
If you are interested in purchasing this digital fine artwork or would like more information, I would be delighted to speak with you. Don't miss your chance to own this art that will bring joy and inspiration to any space it occupies.s
Digital Fine Art: Framed Stretched Digital Fine Art, Subject: Abstract Flowers, Style: Contemporary, Abstract Expressionism, Fine Art, Medium: Archival Inks, with Acid Free Canvas and Varnish UV Protection, Materials: Acid Free Inks and Canvas, White Wooden Frame.
25 3/4″ X 31 3/4″, 5lbs.
Made in the USA by Artist, L.A. CLINE
View Entire Painting