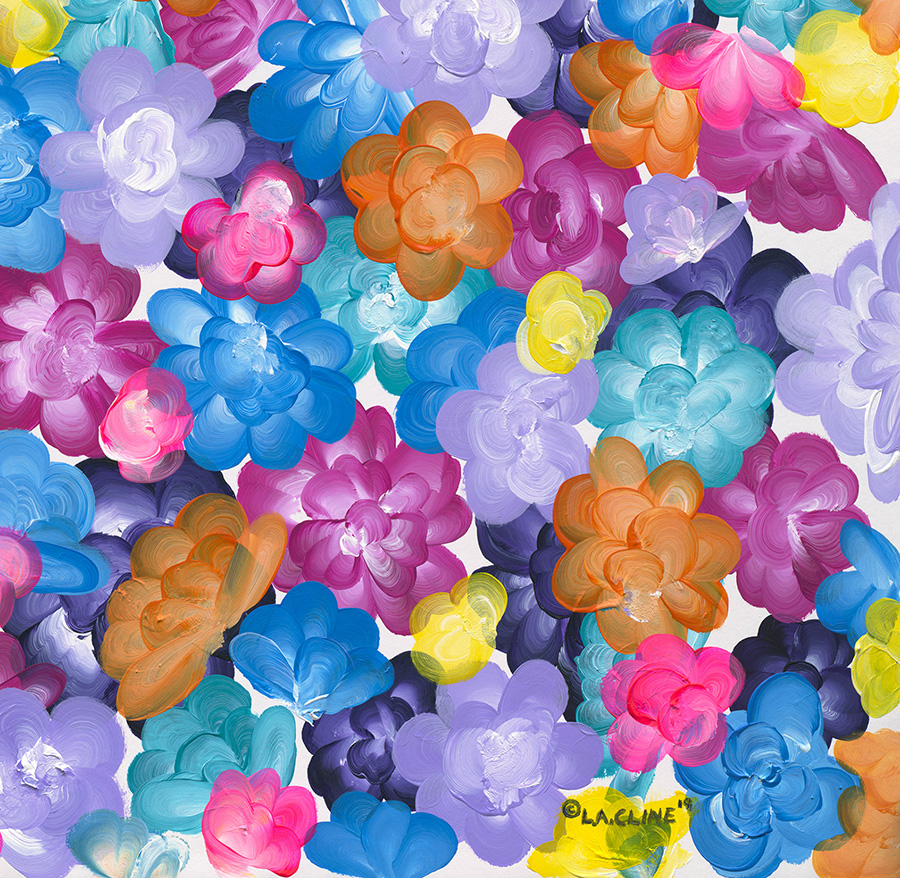 "Flower Power" (Detail)
Abstract flower paintings are a popular art form that has been around for centuries, and L.A. CLINE's "Flower Power" painting is a perfect example of this genre. Abstract flower paintings are created by using vibrant colors and shapes to create an impression of flowers rather than an accurate representation. The result is a visually striking piece of art that captures the beauty and energy of flowers in a unique way.
L.A. CLINE's "Flower Power" painting is a beautiful painting representing the abstract flower painting genre. The artist's use of layers of acrylic paint creates a three-dimensional effect that draws the viewer into the painting. Each layer of flowers is carefully crafted to capture the opulent colors and intricate arrangements of flowers in nature. The use of fluorescent colors towards the end of the painting adds a unique brightness to the overall composition, making it an eye-catching piece of art.
The Artist has remarkable dedication to preserving and reinventing the original fine art and for the past 25 years perfected the technique and creates digital fine art renditions of the original paintings. Collaborating closely with a technical expert for such a long period indicates a strong commitment to achieving the desired results.
Flower Power abstract floral rendition is created using the finest archival inks and canvas, UV protection with an archival varnish ensures the protection and incredible longevity. The canvas is stretched for easy installation, and the sides are hand-painted in gold or silver for a special detail. Preserving fine art in this manner not only safeguards its aesthetic appeal but also maintains its value and integrity by employing high-quality materials and protective measures. Flower Power is a wonderful way to connect with the beauty of nature and an excellent addition to any art collection.
Overall, "Flower Power" is a stunning example of the abstract flower painting genre. Its vibrant colors, intricate layers, and unique use of fluorescent colors make it a standout piece of art that is sure to draw attention. L.A. CLINE also offers creating a custom painting using your colors and dimensions in addition to the digital fine art rendition of Flower Power.
When considering a piece by L.A. CLINE, one can envision the transformative power of art. Through the skillful and intricate hand-painted technique, creates a unique experience for each viewer. The artist's ability to translate the beauty of nature onto the canvas is truly awe-inspiring, offering the opportunity to bring a touch of the natural world and a sense of joy into one's life through the acquisition of a masterpiece by L.A. CLINE.
Digital Fine Art: Stretched Digital Fine Art, Stretched canvas, Subject: Flowers, Styles: Abstract Expressionism, Abstract Flower Paintings, Fine Art, Medium: Archival inks with Acid Free Canvas and Varnish UV Protection.
29″ X 39″, 4lbs. Unframed Gallery Wrapped Gold Hand-Painted Sides
Prefer a White Wooden Frame add $500, Please use the Contact Page or Call
Note: Prefer a different size with or without a frame, Please use the Contact Page or call
Made in the USA by Artist, L.A. CLINE
View Entire Painting