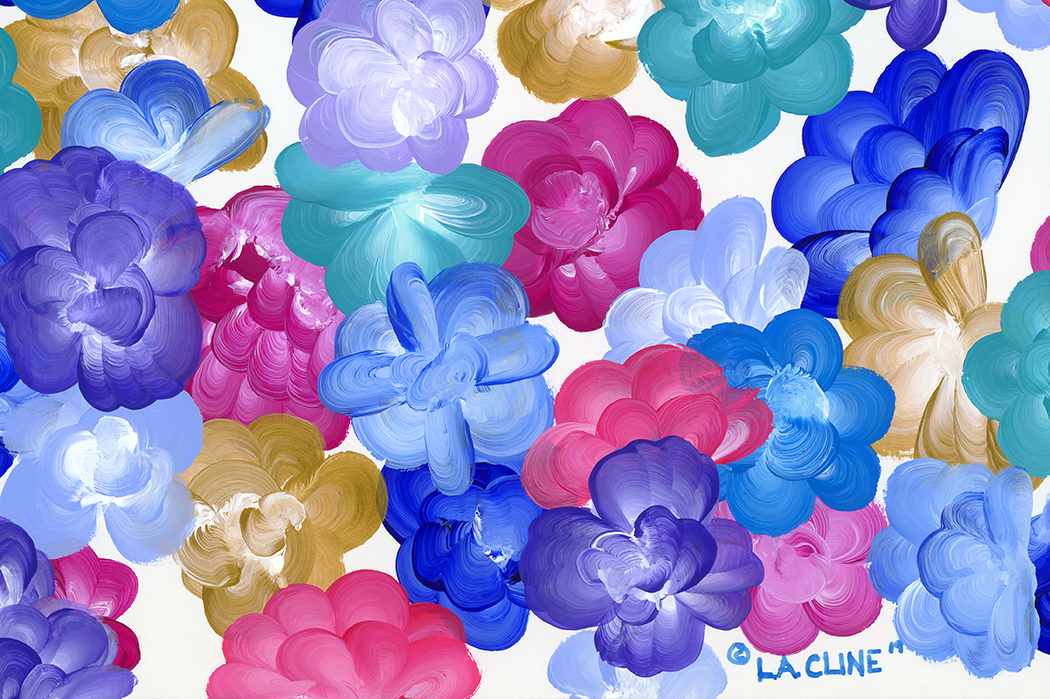 "Happy Flowers Painting" (Detail)
This stunning artwork, titled "Happy Flowers," is an exquisite example of an original acrylic painting that captures the beauty of nature through colorful abstract flowers. The artist skillfully employs different shapes and colors of acrylic painted flowers to create an eye-catching design that leaves the viewer in awe. The artwork's layered composition is carefully crafted, with each layer brushed into place to create a sense of harmony and balance.
The process of creating an acrylic painting like this involves using layers of paint that are allowed to dry before applying another layer. This technique ensures that the different colors and shapes of the flowers do not bleed into one another and maintain their unique characteristics. The artist also leaves enough white space between the flowers to create a contrast that enhances the painting's overall effect.
The original painting was scanned to create a spectacular digital fine art version, which is available to purchase. The digital fine art version of this painting is stretched on a framed acid-free canvas, making it easy to install and display. It is an excellent option for those who want to enjoy this stunning artwork but prefer a more affordable and convenient option than an original acrylic painting.
The use of archival inks and acid-free canvas, along with varnish and archival mist, ensures that the artwork is preserved. The artist's attention to detail is evident in the hand-painted gold or silver detail on the sides, which adds to the painting's aesthetic appeal. Whether you opt for a custom acrylic painting using your color palate and dimensions or this digital fine art version, you are sure to enjoy the vibrant beauty of "Happy Flowers."
In conclusion, "Happy Flowers" is a magnificent acrylic painted flower artwork that captures the essence of nature's beauty through skillful brushwork and a carefully crafted layered composition. It is an excellent choice for those who appreciate fine art and want to add a touch of color and beauty to their space. The use of archival materials and attention to detail ensures that this artwork will remain a cherished possession for many years to come.
Digital Fine Art: Stretched Framed Digital Fine Art, Subject: Flowers, Styles: Abstract Expressionism, Abstract Flower Paintings, Fine Art, Medium: Archival inks with Acid Free Canvas and Varnish UV Protection.
20″ X 40″, 3lbs. Unframed Gallery Wrapped Gold Hand-Painted Sides
Prefer a White Wooden Frame add $400, Please use the Contact Page or Call
Note: Prefer a different size with or without a Frame, Please use the Contact Page or Call
Made in the USA by Artist, L.A. CLINE
View Entire Painting