This Art Store offers, small limited-editions and one of a kind versions of, Master Artist, L.A. CLINE original paintings. Each fine art is uniquely hand-painted, framed and sized differently. If you have any questions, feel free to contact the Artist. Fine Art Quality Promise Guarantee.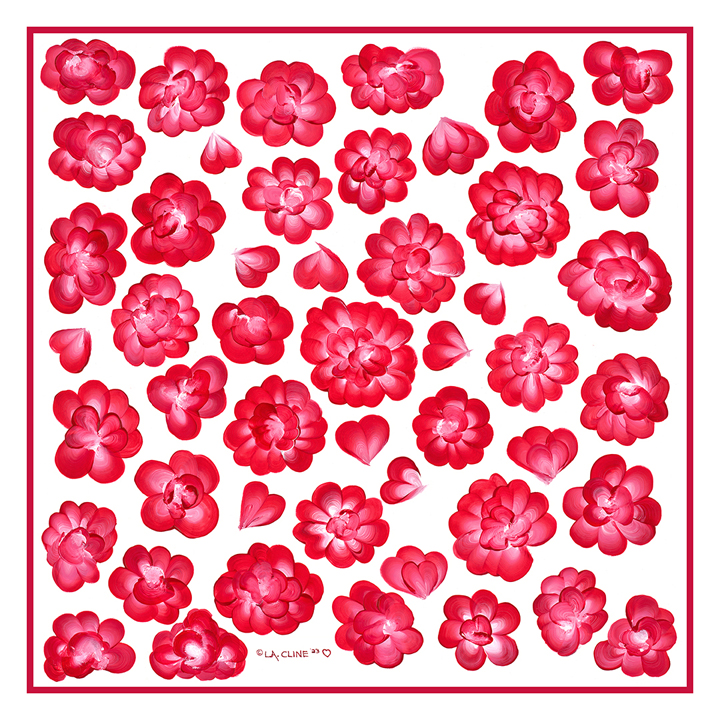 "Love Flowers"
Discover the "Love Flowers" Masterpiece
"Love Flowers" with its unique blend of emotion and artistry is available as this using archival canvas and inks to create this digital fine art canvas version capturing the original to perfection. This creation goes beyond and transcends traditional expression, capturing the essence of love and spreading it through the medium of art ensuring the artwork's longevity. The art is skillfully brought to life with lush, full-brush strokes that gives the artwork with a three-dimensional quality. This technique not only enhances the aesthetic appeal but also adds depth to the representation of flowers and hearts, creating an immersive experience for the observer. This 29″X29″ stretched canvas with 2″strechters weighing 3 pounds is a visual symphony of emotions, rendered to become a timeless piece of art.
The journey continues with a matching silk chiffon scarf complementing the painting, measuring European size 27″X27″. This exquisite accessory is a wearable extension of the "Love Flowers" theme, when you wear this scarf you carry the essence of love and art wherever you go.
Made in the USA by Artist, L.A. CLINE